Back to All News
Mom Abroad
4 Fantastic Days Biking in San Francisco
Brian and I recently visited San Francisco to celebrate our 16-year anniversary. We try to make it a point to take a trip or two just the two of us every-year. We've been out to California before, but we'd never visited San Francisco together. This lively, romantic and adventure filled city just seemed like the perfect destination for a four-day getaway.
We had so much fun running all over the beautiful Bay Area and really made the most of our time with our well-thought out itinerary. From iconic sites and tours to hiking and biking to drinking and snacking we really felt like we saw all the best San Francisco has to offer. I'll save you the trouble of planning and loop you in on our awesome itinerary. Here's how we spent our fantastic four days in San Francisco!
Disclosure – Any and all opinions expressed are that of Mom Abroad. No compensation was received for this post. However please note that some of the links in this post are affiliate links.  Meaning, at no additional cost to you, I will earn a small commission if you click through and make a purchase using the link. I truly appreciate your support!
DAY 1
Coit Tower
After dropping our bags off at the Hilton Hotel in the financial district we headed right up Kearney Street to Telegraph Hill. Atop this historic hill is one of San Francisco's most recognizable locations, Coit Tower. Built as an observation tower in the 1930's this 201-foot structure offers 360° panoramic views of the city and the surrounding bay. Sights stretch from the Bay Bridge, encompassing views of the Financial District, Russian Hill, Golden Gate Bridge, San Francisco Bay, right up to Alcatraz. It was the perfect place to get a lay of the land and begin our adventures. While the hike up Telegraph Hill is quite steep there is an elevator inside the tower itself that takes you to the top for a fee of $9 for adults.

Nestled inside the lobby of the art-deco tower is an equally impressive historic sight. The interior of Coit Tower is filled with frescos painted by local artists in 1933 as part of the Federal Art Project set up by President Roosevelt to keep artists employed during The Great Depression. Twenty-five artists joined efforts to paint a vivid portrait of life in modern California including shopping, farming, banking, shipping and city life.

Fisherman's Wharf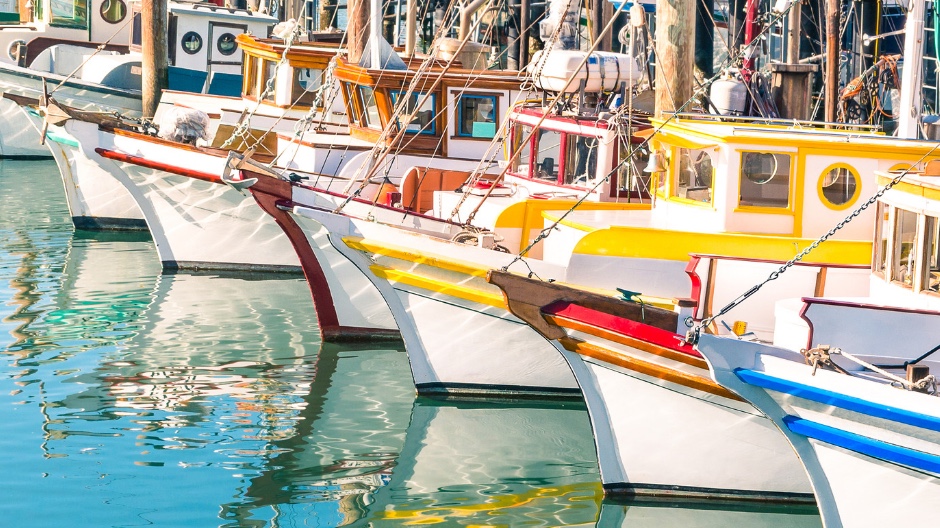 Famished from our long flight we made our way over to Fisherman's Wharf. This world-famous district along the northern waterfront is a vibrant hub of vendors, souvenir shops and attractions including Ripley's Believe it Or Not Museum, the Maritime National History Park, and Madame Tussaud's Wax Museum.

Boudin
We made a bee-line to the Boudin Sourdough Factory for some lunch. We enjoyed soup and sandwiches in the casual cafe and then spent some time watching the professional bakers carefully craft batches of bread and shape and bake the dough into intricately designed animals through the 30-foot observation windows. There's even a two-way intercom system where you can ask the bakers questions directly.

We made sure to take a quick trip upstairs to where the Bistro restaurant is located to see the small museum and learn more about the history of the bakery and catch a peak at into the bakery itself and see (and smell!) where the "Mother" dough is kept in a special vault.

Musée Mécanique
Feeling satisfied from our savory sourdough lunch we made our way to the nearby Pier 45 to see the Musée Mécanique. From the outside, it doesn't look like much, but believe me, it's a great place spend a spend a few bucks. And by a few bucks I mean that's all you will need for a fun time! This retro arcade offers a throwback to early 20th century games and mechanical oddities from self-playing pianos to fortune telling talking heads. All for the low price of QUARTERS. Admission is completely free, and the only money we spent was the handful of quarters I made sure to pack just for this museum. There are plenty of change machines on hand if you need it.

Blue and Gold Bay Cruise
We continued our orientation with San Francisco by taking a Blue and Gold Fleet Bay Cruise. This excursion was included with the CityPASS bundle of attraction tickets we purchased prior to our trip. CityPASS is such a great value! I find it always includes the very best attractions a city has to offer into one extremely easy to use package. We simply exchanged our ticket voucher at the Blue and Gold Fleet Bay Cruise ticket window and picked up our pocket-sized ticket book. We didn't have to stand in line again for tickets at any of the other included attractions.
Our one-hour Bay Cruise sailed around Alcatraz Island, past Angel Island and directly underneath the Golden Gate bridge. We enjoyed the fully narrated information about local landmarks but even more impressive were the breathtaking views. I definitely recommend doing this tour in the afternoon when the skies are blue, and you can enjoy unobstructed views of the San Francisco skyline and the majestic Golden Gate Bridge.

Sea Lions at K-Dock
We could see the famous California harbor seals basking in the sun on the floating docks from our Bay Cruise but decided to get a closer look from the viewing platform at Pier 39.  Last century, this cuddly bunch arrived and set up home right on the wharf.

Pier 39
We continued exploring the rest of the extensive Pier 39 complex. Refurbished in 1978 to resemble a quaint wooden fishing village, this 1905 cargo Pier now houses popular tourist shops and restaurants spread through two levels. There are also various street performers and amusements including a double decker carousel.

Aquarium of the Bay
Our CityPASS also included a visit to the Aquarium of the Bay at Pier 39. We strolled through the 300 feet of crystal-clear glass tunnels for a scuba diver's view of over 20,000 marine animals from San Francisco Bay and surrounding waters. I was amazed by all the sharks and bat rays! The Aquarium offers the unique opportunity to touch them in their "Touch the Bay" pools along with sea stars and anemones. The river otters were adorable and really seemed to enjoy their watershed habitat.

After out aquarium excursion, we were hungry for some seafood. Fisherman's Wharf is home to some of the best! We wandered the various seafood merchant's stalls selling clams, calamari, and oysters fresh from the ocean before settling on Lou's Fish Shack. We had a quiet table on the second floor by the window where we could people watch. I dug in to the Dungeness crab. Brian enjoyed the Pacific Mahi Tacos and their California craft beer selection.

Ghirardelli Square
After dinner we headed west along the waterfront to Ghiradelli Square. A beacon bayside landmark since 1862, this former chocolate factory and woolen mill is now a three-level modern shopping and restaurant complex. The square retains the famous Ghiradelli trademark clock tower and the original Ghiradelli electric roof sign but the real draw here is the decadent desserts served in the soda shop and sold in the Ghiradelli store. We polished off a hot chocolate fudge sundae and banana split made with Ghiradelli's home-made ice-cream and topped with lashings of cream. Vintage chocolate making machinery still operates inside the shop to demonstrate the process Ghiradelli uses to make their trademark chocolates.

DAY 2
Our second day in San Francisco began early. We took the Powell-Hyde Cable Car to Bay Street. It was just a short walk across the intersection from there to Taylor Street where Wheel Fun Bike Rentals is located. Booking our bikes ahead of time saved us money and made pick-up a cinch. We chose Wheel Fun Rentals not only because they had the best pricing available for e-bikes but because they offer a unique GPS audio guide.

The previous evening at Ghiradelli we had seen an advertisement for their special Krispy Kreme donut. We had to check that out! After all, we'd knew we'd soon be biking off all the calories! Krispy Kreme, an 80-year-old doughnut brand, plus Ghiradelli, a 165-year-old chocolate brand is truly a match made in heaven. The doughnut is filled with salted caramel filling, dipped in decadent chocolate icing, drizzled with caramel and topped with a blend of amber sugar, salt sprinkle, and Ghiradelli mini chocolate chips. My mouth is watering again just thinking about it!

Our first stop was in the Marina District at the end of Yacht Road to see the Wave Organ. Created in 1986, the acoustical art piece is certainly not the prettiest sight, but that's not the point. The installation is meant to stimulate your ears not your eyes. Sound is created as the Bay waves move in and out of organ pipes made of PVC and concrete.

Presidio – Palace of Fine Arts
From there it was on to the Presidio. Once the nation's premier army post, the Presidio, located on the northern tip of the San Francisco peninsula is now it is home to museums, restaurants, recreational paths and architectural remnants of the 1915 Panama Pacific International Exhibition. The most prominent of which is the Palace of Fine Arts. Easily one of the most beautiful historical monuments in San Francisco, we stopped by to explore the impressive structure. Originally designed to resemble a Roman ruin, it certainly took me back to Italy right there in the middle of the California coastline.

Crissy Field and Fort Point
From the Presidio we biked to Crissy Field. A tidal marsh once covered this field before it was used as a military airfield. In 2001 it was transformed into a waterfront park for recreation which now offers one of the most spectacular views of the Golden Gate Bridge. We took the opportunity to get some photos here before continuing our trek.

Our final stop before getting on the Golden Gate Bridge was at Fort Point. Completed by the US Army in 1861, this fort was built partly to protect San Francisco Bay from any attack, and partly to defend ships carrying gold from California mines, it is the most prominent of the many fortifications that can be found along the coast and is a classic example of a pre-civil war fortress. It made it through the 1906 earthquake but was nearly demolished in the 1930's to make way for the bridge. I'm glad it survived as it's the perfect spot for photos at the base of the bridge.

Biking over the Golden Gate Bridge itself was an unforgettable experience! Feeling the ocean wind in your face and sensing the majesty of this landmark was absolutely exhilarating. It's an adventure that will stand out in my mind forever and easily our favorite experience in San Francisco. None of our photos really do it justice!

Brunch in Sausalito
Once we crossed the bridge, it was an easy 10-minute downhill ride into Sausalito, a quaint and charming little seaside town. We dropped our bikes off at the super convenient Sausalito Bike Return service and then made our way along the main avenue to The Barrel House for lunch. This was our favorite meal of our trip. Not only was the Eggs Benedict brunch perfection on a plate but the view we enjoyed of San Francisco and the Bay while we ate was simply spectacular.

Ferry Building
From Sausalito we took the Golden Gate Ferry back to San Francisco. The Golden Gate Ferry drops off at the iconic Ferry Building along the Embarcadero. This place is so much more than just a transit hub! Locally-produced artisan goodies like Cowgirl Creamery cheese, and Hog Island Oyster Company make it a foodie paradise! We were still pretty stuffed from our fabulous lunch but we did try the delicious Blue Bottle Coffee and Humphrey Slocombe's ice cream. The flavors change every day at this inventive creamery, but the "Secret Breakfast"–made with bourbon and corn flakes–is one of three things that never come off the menu. I can attest that it was the best ice-cream I've ever tasted in my life!

Exploratorium
After leaving the Ferry Building we hung a right and walked along the Embarcadero to Pier 15 for a visit to the Exploratorium. Tickets to the Exploratorium were also included in our San Francisco CityPass. Since 1969 this renowned museum and global learning center has been wowing people of all ages with creative and interactive exhibits exploring science, art and human perception. We were simply amazed by all the unique hands-on displays!  From the tiny microbores to the giant inflatable installations it was a feast for our senses.

Alcatraz Island
Hanging another right out of the Exploratorium we continued up the Embarcadero to Pier 33 for our evening visit to Alcatraz. First, I must mention that a tour of Alcatraz isn't a spur of the moment activity. Tickets to Alcatraz sell out months in advance with Night Tour tickets being the most difficult to come by, often selling out as soon as they go on sale 90 days before the tour date. I knew we wanted to do the Night Tour as it is substantially less crowded than the day time tours and more areas of the island are open to visitors. Furthermore, the National Park Service offers extra talks and programs exclusively in the evenings.

Initially I had no luck finding anything available from the official Alcatraz Tour site. We purchased a tour that was bundled with the Alcatraz Night Tour from a Tour company. It was expensive but 100% worth it. I would do it again in a heartbeat. If you use a third-party vendor like we did just make sure it is a reputable vendor like Bay City. Many tours claim to visit Alcatraz when in fact all they do is sail by it.
Alcatraz means "pelican" in Spanish, a reference to the first inhabitants of this rocky island. It's location in the middle of the bay is both strategic and exposed to harsh ocean winds. In 1859, the US Military established a fort at Alcatraz to guard the Bay. In 1907 it became a military prison and in 1934 it became a maximum-security federal penitentiary which it remained until 1963. Commonly called "The Rock", Alcatraz housed some of the most notorious criminals like Al Capone and George "Machine Gun" Kelly.

The award-winning audio tour included with admission is truly OUTSTANDING! I really can't express that strongly enough. It is unlike any other audio tour we've ever done. Not only does it walk you step by step through the extensive prison complex you are immersed in the sounds and narratives of the island's fascinating history from first hand accounts of the actual guards and prisoners. You truly get a sense of what it was like to be in Alcatraz prison when it was in operation. You'll even be walked through an extensive escape attempt complete with sound effects and an exciting description of what later become known as the Battle of Alcatraz. The talks given by the National Park Rangers where also excellent and kept us enthralled. From start to finish Alcatraz was one of our favorite experiences in San Francisco!